Graduate Foundation Course
Graduate Foundation Course
The Graduate Foundation Course (GFC) provides students from a non-business background a smooth transition into the business environment. The GFC is intended for applicants who qualify for General, Probationary admission but have not completed an undergraduate degree in business, or have not successfully completed the following subjects as part of their degree program:
Accountancy
Finance
Marketing
Statistics
Operations Management
Each Graduate Foundation subject has 20 contact hours during the program, you will be exposed to operational and basic conceptual discussions on different disciplines, which will prepare you for further study at UOWD.
GFC Challenge Tests
Challenge Tests can be taken prior to the first semester of study to allow you to gain exemption from certain GFCs. A mark of 50% or above will entitle you to an exception from that GFC. Practice test material is available here.
GFC Challenge Test Timetable
Subject
Date
Time

FND 111
(Accounting)

Sunday, 5 Sep 2021
Sunday, 19 Sep 2021

7:30pm - 9:00pm

FND 112
(Finance)

Monday, 6 Sep 2021
Monday, 20 Sep 2021

7:30pm - 9:00pm

FND 113
(Marketing)

Tuesday, 7 Sep 2021
Tuesday, 21 Sep 2021

7:30pm - 9:00pm

FND 114
(Statistics)

Wednesday, 8 Sep 2021
Wednesday, 22 Sep 2021

7:30pm - 9:00pm

FND 115
(Operation Management)

Thursday, 23 Sep 2021

7:30pm - 9:00pm
To enrol in the Graduate Foundation Course you will need to complete the following steps in order:
Contact your Admissions Officer or attend UOWD (during business hours, between 8.30am and 6.00pm) with your offer letter on or before the start of the semester;
If your offer contains any conditions e.g. provision of certified documents or satisfying the English language requirements, these must be cleared prior to enrolment;
Pay your appropriate GFC fees (AED 2,100 per subject) to the Cashier's office;
Bring your receipt and offer letter to the Registrar's department. Your student ID photo will be taken and you will be enrolled in your subjects according to your offer letter.
Once you have completed these steps, you will be able to attend access the online GFC short course modules.
GFC Frequently Asked Questions
How is it decided which GFC subjects I will need to take?
Each program has defined admission criteria and for some postgraduate degrees you will need a foundation in certain business disciplines. If you meet the GPA requirements for admission to your program but have not successfully completed the five GFC subjects (detailed above) as part of your undergraduate degree, you will need to take the relevant subject(s) (or pass the challenge tests) before commencing your postgraduate studies. These requirements will be detailed in your offer letter.
How much will it cost?
Fees for the GFC are AED 2,100 (VAT 5% inclusive) per subject.
How many classes should I attend?
GFC subjects are online self-study short courses (Approximately 20 hours each).
Are exams held for the GFC?
You have to complete each 'Topic' within the subject and fully conclude the related assessments.
What is the pass mark for GFC subjects?
To successfully complete a GFC subject, you must obtain a minimum of 50% in the final exam.
Can I join the university and do the GFC subjects in the next semester?
No, you are not permitted to join the University until you have successfully completed the required GFC subjects and met any other conditions as outlined in your offer letter.
How will I know my GFC results?
The results will be posted on SOLS and you can access the results directly there.
When I pass, what should I do next?
The Admissions Office will remove your GFC "condition" and issue you with a new offer letter. You can then join the University, provided you have met all other conditions. You must contact your Program Director to enroll in subjects.
Who will be my point of contact for any academic clarifications related to the GFC Subject?
Your subject coordinator will be your contact point for all academic clarifications related to the subject. Please send him/her an email.
Who will be my point of contact for academic and administrative clarifications related to the program?
Your program director will be your contact point for all academic administrative clarifications related to the program. Please send him/her an email. The program director's email addresses can be located in the academic staff directory. Please send any admission-related or administrative enquiries to [email protected]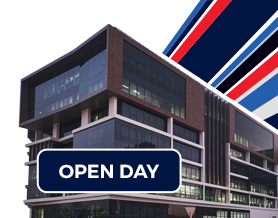 Open Day
Do you know that our next Open Day is on Friday 24th September, 2021?
Join our experts to learn more about our degrees, and how you can enrol in our autumn intake which starts on 26th September.