Artificial Intelligence Analyst Training
Artificial Intelligence Analyst Training
Duration
5 days
Face to face training sessions
Sessions
12 - 26 November 2022
10AM - 5PM
Every Saturday and Sunday
Fees
AED 4,725
(VAT 5% inclusive)
For alumni & current students fees, please
email [email protected].
Program Overview
AI and machine learning are changing our world and powering the 4th Industrial Revolution. Due to the ability of machines to learn from past experiences, AI is poised open the door to business automation. AI-powered solutions can help companies gain a competitive advantage by creating better products and services tailored to their customers, reduce risk of failures or downtime, reduce costs thanks to predictive maintenance, increase operational efficiency, improve safety and compliance, instantly process data, and to get a better understanding of their customers.
This training program consists of 40 hours of instructor-led training and self-paced readings. The instructor lead training combines traditional teaching components with case studies, in-class discussions and hands-on activities performed on virtual labs, to enable working knowledge and experience with Business Intelligence and its related tools.
This program will allow participants to:
Acquire knowledge and practical skills in the design and implementation of AI-based solutions.
Gain an in-depth understanding of AI related concepts, including - machine learning, natural language processing (NLP), computer vision, applications of AI in the industry and government and applying machine learning algorithms to specific problems.
Analyse scenarios and use cases for potential transition to an AI-based solution.
Apply the learned concepts and gain hands-on skills with practical AI platforms and tools, such as Watson Studio.
Obtain an IBM Digital Certification in Artificial Intelligence.
Upon completing this training you will be able to:
Ensure that your business/organisation stays relevant by exploring the opportunities for AI-based solutions.
Analyse the suitability and potential benefits of AI deployments in your organisation.
Design, implement, and deploy Artificial Intelligence applications, using the IBM Watson services
Secure Artificial Intelligence-based applications.
Integrate Artificial Intelligence-based applications with existing systems.
Become a certified Artificial Intelligence Analyst.
Artificial Intelligence Analyst: Explorer | Mastery Award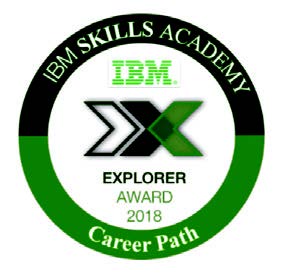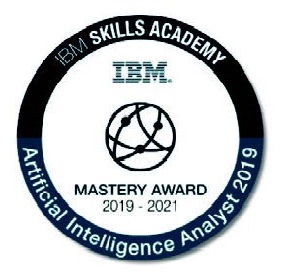 This course is ideal for senior managers, middle managers, entrepreneurs and business owners who have a keen interest in investing in and adopting the Artificial Intelligence technology. It is also aimed at those in more technical roles who would like to take on a leadership role in implementing streamlined and ecient AI-based business solutions.
The training consists of three main modules offered over 40 hours:
MODULE 1 – Artificial Intelligence Overview
AI overview, trends and advancements
Types of AI and its applications
AI research focus
Business analytics
MODULE 2 – Prerequisites
IBM Watson and how it works
Watson technology case studies
From DeepQA to Watson services
Watson services available on IBM Cloud
MODULE 3 – Artificial Intelligence Analyst
Machine learning
IBM Watson services, IBM Watson Studio
Watson Machine Learning, IBM Watson Knowledge Studio
Deep learning and Neural Network Modeler
NLP concepts, applications and case studies
NLP Watson services
Introduction to chatbots and chatbotcomponents
How to build a chatbot with WatsonAssistant
Computer vision components and pipeline
How to classify images with Watson Visual Recognition
Building intelligent solutions by integrating Watson services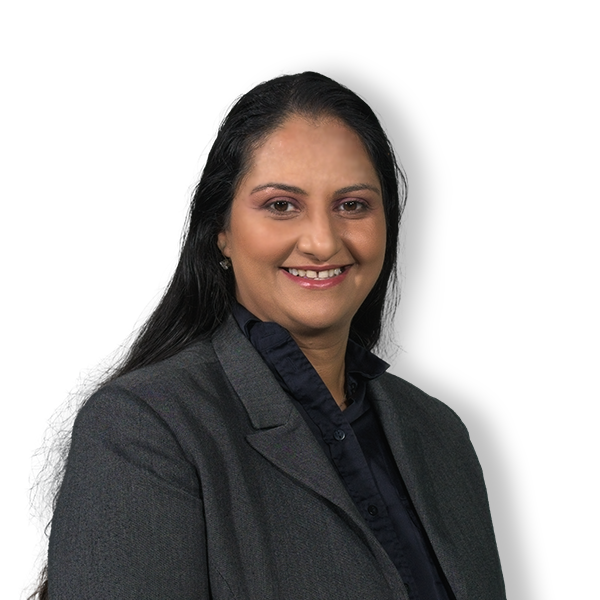 Dr May El Barachi
Dr May El Barachi is a next generation networking expert holding PhD and master's degrees in Computer Science from Concordia University (Canada). She has 12 years' experience in the field with a strong focus on smart and resource efficient systems. During those years, she acquired academic experience as associate professor and has worked as researcher with Ericsson Research Canada. She co-founded and directed a cutting-edge research lab aiming at investigating sensory, cloud, and mobile technologies. Presently, she works as Associate Professor at University of Wollongong Dubai and is involved in several research collaborations with international universities and local industrial partners.
Dr El Barachi is also an expert in emerging technologies, including: Internet of Things, Sensory Networks, Crowdsensing, Blockchain, Big Data Analytics, Network Function Virtualization, Enhanced Cloud Computing Systems, and smart cities. She is the leader of the Sensors and IoT research group at University of Wollongong in Dubai.
---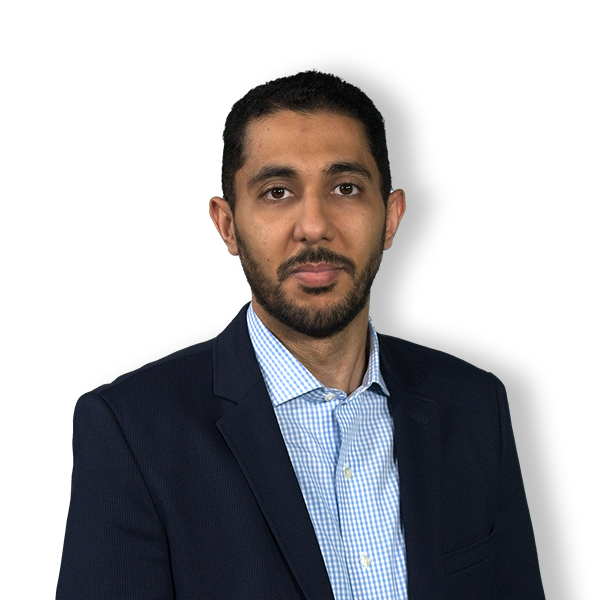 Dr Obada Al Khatib
Dr Al Khatib is an Assistant Professor at the University of Wollongong in Dubai (UOWD) and has a keen interest in Telecommunication Engineering. He obtained his PhD from the University of Sydney, Australia specialising in "Modelling and Performance analysis of wireless communication systems for smart grid communications".
Dr Al Khatib is very passionate about teaching and feels that mentorship and interaction with students in the course of teaching are some of the aspects that make an academic position so rewarding. His teaching philosophy is concerned with fostering: (1) students' inquisitiveness and passion for learning, (2) life-long learning, (3) association with the real world, (4) organised study, (5) confidence building, and (6) student and lecturer accountability.
---
For more information please email us on [email protected]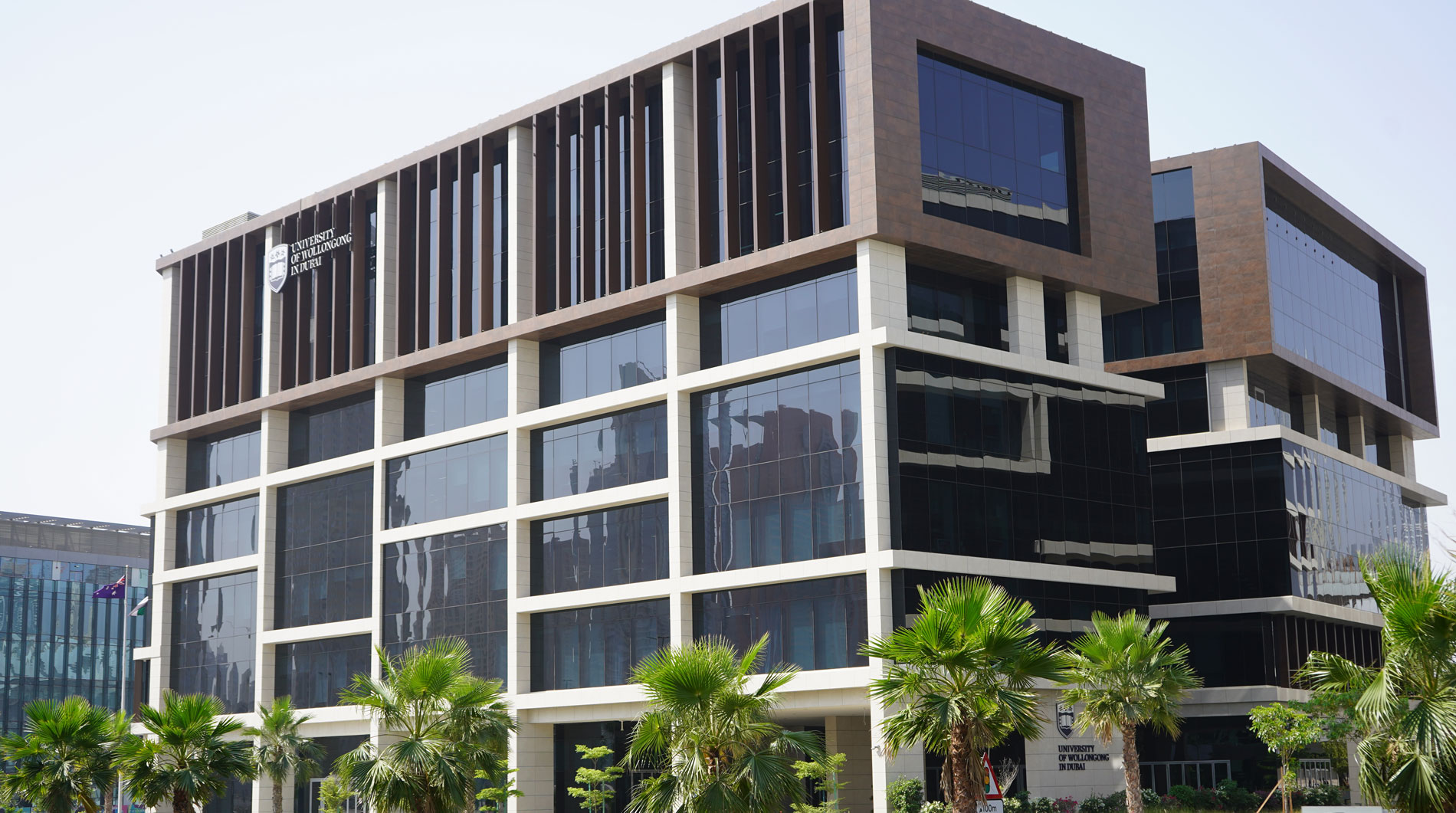 Open Day
Remember to attend our next Open Day on Saturday, 28 January 2023.
Join our experts to learn more about our degrees, and how you can enrol at UOWD.