Creative Media Open Day
Fri, 06 Sep 2019 - 5:00 PM to 06 Sep 2019 - 8:00 PM
Explore a world of Creativity and Expression
Will you be the next leading game designer? Will you be the next social media influencer or will you design the next breakthrough mobile app?
If you have a keen interest in becoming part of an exciting industry where you can develop your creativity to deliver coordinated messages through various channels, such as television, radio, social media and experiential activities, we are inviting you to attend our Open Day to explore what are the creative industries, what careers are in demand in the new digital media landscape and what skills are required.
"The Future Landscape of the Digital Media Sector"
This event will enable you to:
Interact with experts in media and communication,
Take part in workshops surrounding the creative industries sector and
Get guidance in planning your future career
Register Now
Location
Jamel Art Centre, Dubai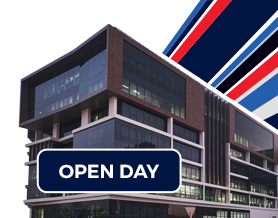 Open Day
Do you know that our next Open Day is on Saturday 5th February, 2022?
Join our experts to learn more about our degrees, and how you can enrol in our spring intake which starts on 11th April, 2022