As Dubai moves towards an internationally recognised hub of media excellence, a degree in Media will help position students for careers in Game Design, Digital Animation, Visual Communications, Mobile Applications, Journalism, Graphic Design, Events, Social Media, Live Streaming, Brand Strategy and many more.
Twenty years ago, Sheikh Mohammed Bin Rashid Al Maktoum, Vice President and Prime Minister of the UAE and Ruler of Dubai, launched Dubai's media strategy that aimed to position the city as a media hub through pioneering initiatives and projects. Today, Dubai is home to more than 4,000 arab, regional and international media organisations. Now, the Arab Information Ministers Council named Dubai as the Capital of Arab Media for 2020.
Choose your media degree and choose your career to become a Game Designer, Graphic Designer, Digital Animator, Social Media Content Producer and more.
Select the degree you wish to study
Other Bachelor's Degrees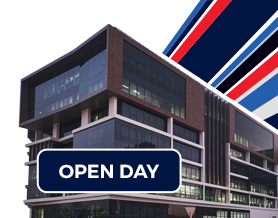 Open Day
Do you know that our next Open Day is on Friday 24th September, 2021?
Join our experts to learn more about our degrees, and how you can enrol in our autumn intake which starts on 26th September.