University tuition fees are to be paid each semester according to the number of subjects you enrol in and their associated credit point weighting. We also have payment plans to ease the load of our students. Students can choose from traditional, progress or executive payment plan.
Note:
The above fees are subject to change without notice. Please note that all rates are inclusive of any applicable Value Added Tax as from 1 January 2018.
Yearly fees will vary depending on number of subjects enrolled in.
USD rate given as an indicative estimate only. All conversions are rounded to the nearest USD. Exchange rate applied is 1 USD = 3.67 AED. Please check market rate at the time of application for actual USD equivalent cost.
Exclusions
Textbooks, photocopying, personal stationery items and other incidental costs are not included in the tuition fees.
Bachelor's Degree Fee Payment Procedures
Bachelor's students enrolling at UOWD are offered various payment plans. Depending on your chosen plan, a number of payment methods are available.
Online payments: payments can be made online using a Visa or Master card by visiting our online payment portal. Please find the online payment link here.
Direct bank transfers: please click here for details.
Cash payments through Al Ansari Exchange branches across the Emirates. Present your student ID number at any of the outlets across the UAE and you can deposit your tuition fees without having to travel to the University campus. Please note that only cash payments are accepted through Al Ansari Exchange branches and a transaction charge will be applied.
Payments can also be made through major credit cards (not debit cards) by completing and submitting the credit card Payment Authorisation Form.
Note: Cash or cheque payments through the Fees Office will not be accepted until further notice as per directive. Cash deposits to the UOWD bank account are not allowed.
Fee Payment Plans
Traditional Payment Plan
Progress Payment Plan
Guardian Payment Plan
Note that in the first semester only the Traditional Payment Plan is available for those students who require UOWD sponsored student visas.
For full details, please download UOWD's Payment Procedures and Fee Policies.
Traditional Payment Plan
Fees can be paid by cash, cheque, or credit card. You must ensure all fees are paid in full before the start of the semester, according to the number of subjects to be taken. All payments for the semester must be made before the due date mentioned in the Academic Calendar.
Progress Payment Plan
Fees can be paid by cash, cheque or credit card in three instalments, as follows.
1st instalment – 50% of the total tuition fees for the semester.
2nd instalment – 25% of the total tuition fees for the semester.
3rd instalment – 25% of the total tuition fees for the semester.
The dates for payment of instalments will be advertised by the Finance Department before the start of each semester. If you elect to pay the fees under the Progress Payment Plan, you will be required to pay an additional charge of AED 420 per subject. Students who pay by post-dated cheques or give a credit card debit order for the remaining fee instalments are eligible to receive a discount of 50% (i.e. AED 210) on the additional fee paid per subject.
Students who default on any payment will automatically lose the privilege to continue with the Progress Payment Plan and will have to revert to the Traditional Payment Plan.
Guardian Payment Plan
Fees can be paid by cash or cheque only. If you elect to pay your entire tuition fees for the degree program upfront, you can obtain a discount of 10% on the total cost. This discounted amount will be given to you at the time of Graduation as a cash award.
Visa Sponsorship
If you wish to take up the UOWD Visa Sponsorship you should pay the tuition fees for the first semester as per the Traditional Payment Plan. Following initial enrolment, sponsored students can make use of the various payment plans.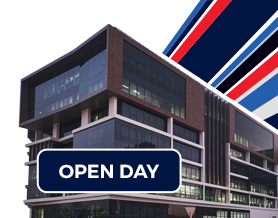 Open Day
Do you know that our next Open Day is on Saturday 30th October, 2021?
Join our experts to learn more about our degrees, and how you can enrol in our winter intake which starts on 9th January, 2022