UOWD Campus of the Future #sneakpeak 2021
Featuring ultramodern facilities housed in an avant-garde architectural design, UOWD's new campus enriches the University's teaching approach, with flexible, technology-driven curricula that match the skill needs of Dubai Expo 2020 and its legacy.
Rising stars of UOWD - Rayane Tchantchane 2021
Meet Rayane Tchantchane, the first female mechanical engineer and top graduate at #UOWD!
Having a clear idea in the path she wanted to take in her academic progression, Rayane has an interest in creative designing, and a strong passion in mechanical engineering.
Today, Rayane is ready to choose from a wide range of career options, embark on a journey to build her future and inspire young women. We wish her all the best!
#UniversityOfExcellence #ChangeYourFuture #RisingStarsOfUOWD
GeoTech and Concrete Lab 2021
Engineers are, and will continue to be, one of the most in-demand professions globally. Civil engineers, for example, have several opportunities available to them in the UAE as the country boasts some of the most magnificent man-made structures in the world.
To compliment the engineering programs at UOWD, our 'Campus of the Future' has 8 state-of-the-art laboratories.
Here is a sneak peek of our Concrete and GeoTech lab.
Fluid And Thermal Lab 2021
At UOWD​, we're building the next generation of engineers. Our Faculty of Engineering and Information Sciences offers technology-based bachelor's and master's degrees, with the opportunity to specialise in specific practical disciplines.
Take a look at the Fluid and Thermal labs at our 'Campus of the Future' – they are part of the 8 cutting-edge labs that we have to complement our engineering programs.

Learn more about our engineering degrees here: https://bit.ly/3f1GQqY
Manufacturing Lab 2021
By 2030, Dubai aims to build 25% of its buildings using 3D printing technology, according to Dubai's 3D printing strategy.

At UOWD, we aim to build the next generation of engineers to meet the demands of the future workplace.

Here is a sneak peek of our Manufacturing lab.

Learn more about our engineering degrees here: https://bit.ly/3x2H7jD
Rising stars of UOWD - Marwa Al Saffar 2021
The UAE commemorates 'The Year of the 50th' and has come a long way in supporting women since its union. Emirati Women are equally empowered and have been in key roles that have contributed towards our nation's growth.
One such person is #UOWD's Marwa Al Saffar, a Master of Business and Marketing graduate who has risen through the ranks at her Marketing position at Dubai Airports. Her message to all our students on this day states, "Don't let anything stop you, because our contribution makes the country even greater."

On the occasion of #EmiratiWomensDay, we celebrate the vital role and contribution of Emirati women in elevating the country's development. Empowering students with the knowledge and skills needed to inspire change is crucial for the next 50 years of progress.
UOWD's Covid-19 Precautionary Measures 2020
Find out the precautionary measures we have in place to safeguard our students and staff during this global pandemic.
President Of UOWD Speaks To Airport Economist 2020
Prof Mohammed Salem, President of UOWD, talks to renowned economist Tim Harcort of the Airport Economist
UOWD Women's Day 2020
The theme for this year's International Women's Day is #EachforEqual. This is about bringing together people of every gender, age, ethnicity, race, religion and country and challenging stereotypes, fighting bias, broadening perceptions, improving situations and celebrating women's achievements.
International Women's Day is a time to reflect on progress made, to call for change and to celebrate acts of courage and determination by ordinary women, who have played an extraordinary role in the history of their countries and communities.

Change isn't just about big headline moments, legal victories and international agreements, it is about the way we talk, think, and act every day can create a ripple effect that benefits everyone.

It is a day to celebrate all women and their diversities, and to celebrate the progress that women have made towards equality, but to also remember how much further there is to go.

We celebrate those who came before us, those who stand beside us now, and those who will come after. The world has made unprecedented advances, but no country has achieved true gender equality.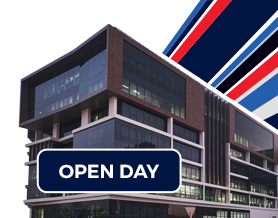 Open Day
Do you know that our next Open Day is on Friday 24th September, 2021?
Join our experts to learn more about our degrees, and how you can enrol in our autumn intake which starts on 26th September.