IELTS Test - Paper Based
Headphones available for the listening component.
This test requires test takers to sit at a desk with the question papers and answer sheets for the Reading, Listening and Writing tests. Test takers will their answers with HB-pencils. The Speaking test is carried out face-to-face with a trained IELTS examiner.
Test format
The IELTS test assesses your abilities in listening, reading, writing and speaking – in less than three hours.
There are two types of IELTS: Academic and General Training. Listening and Speaking are the same for both tests, but the subject matter of the Reading and Writing sections differs depending on which test you take.
The Listening, Reading and Writing sections of all IELTS tests are completed on the same day, with no breaks in between them. The Speaking section, however, can be completed up to a week before or after the other tests. Your test centre will advise. The total test time is 2 hours and 45 minutes.
For more details on the IELTS paper based test visit: https://www.ielts.org/about-the-test/test-format
Accepted – IELTS results are requested by universities and employers in many countries, including the US, Canada, the UK, Australia, New Zealand and Ireland. IELTS results are also requested by professional bodies, immigration authorities and other government agencies in the Middle East and across the world. IELTS is recognised by 10,000 institutions over 140 countries including over 3,000 institutions in the US that accept IELTS results. Click here to see who accepts IELTS.
Available – up to 3 times a month.
Fair – the test that gives you a better chance to do your best. Take your speaking test one-to-one with an examiner. No computers, no interruptions.
Fast – total IELTS test time is under 3 hours and you get your IELTS results after just 13 days.
Respected – IELTS is co-owned and was co-created by a global partnership of education and language experts: the British Council, IDP: IELTS Australia and Cambridge English Language Assessment.
Relevant – Preparing for IELTS helps you improve the language skills you will need to succeed in your studies and work overseas.
International – IELTS accepts British and American spellings and includes questions that are fair to everyone.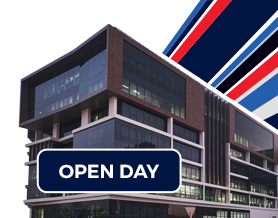 Open Day
Do you know that our next Open Day is on Friday 24th September, 2021?
Join our experts to learn more about our degrees, and how you can enrol in our autumn intake which starts on 26th September.