UOWD marketing students pitch to industry experts
Wednesday, 15 May, 2013
Six teams of final year Business and Management students from the University of Wollongong in Dubai (UOWD) presented a live product marketing pitch to three high profile industry experts.Bringing industry to the classroom, the students were challenged with creating a marketing plan based on consumer insights, as part of their Level 3 'Marketing Strategy' course. The process required each team to deliver a ten minute outline of how they could increase the market share for one of three Unilever brands, by enhancing buyer awareness and improving brand identity.Making the pitch all the more challenging, the teams delivered their strategies in front of Unilever's regional Vice President of Marketing (Home, Personal Care, Beverages & Foods), Madhusadan Rao, alongside two other industry specialists, Mariam AlAli, Head of Emiritisation, Mashreq Bank, and Himanshu Vashishtha, CEO of the specialist marketing consultancy, Sixth Factor.The six teams were selected following a qualifying round involving 16 groups of students, which was preceded by a series of assessments, leading to the final presentation. The groups were mentored by UOWD Associate Professor, Dr Melodena Stephens Balakrishnan, and Harshit Jain, VP of Mashreq Bank and UOWD adjunct faculty member. Throughout the semester the students dedicated hours to improving their original pitches, working overnight in some cases to prepare for the final competition.Commenting on the standard of the pitches put forward, Himanshu Vashishtha said, "This was exceptional – all the more considering they were just undergraduate students."Madhusadan Rao added, "They have worked very hard in a short span of time on some tough briefs and we saw very good quality of work. Particularly impressive is the primary and secondary research, the enthusiasm of the teams to connect with shoppers and stores and finally the bright sparks of creativity that one saw."Taking third place in the final were Mohamed Shahzad Illiyas, Farha Bhadelia, Eccha Khemani, Harshana Badlani and Farah Khan. Under their team name, FSL Marketers, the group pitched their ideas to increase brand awareness and market penetration for Unilever's Fair & Lovely products amongst men in the MENA region. The team won high praise for their innovative use of product packaging and sizing options, even developing functional prototypes of the new design.Second place in the final were Anirudh Patni, Ruth Thomas, Sumeet Aggarwal, Payal Bulchandani, and Sarvesh Tulsani, known as team Synergy. Their task was to develop a strategy for the Axe Deodorant product that would focus on the female market, without impacting upon men's perception of the brand. The team were highly commended for their primary research, which resulted in the development of a new slimline product, designed for portability.The overall competition winners were Mariya Zarubina, Alexander Urmanova, Sikander Raza, Talal Mansab and Ebrahim Abdullah. Under the team name Inspiration, the group pitched their ideas to increase the market share of Vaseline products in the UAE and to create a brand identity associated with healthy skin. Their strategy was based on extending the product line to the travel market, and developing a universal marketing strategy that would reach a wider range of consumer groups.Commendations also went to The Expendables team - Naeem Rashul, Hessam Nader Abdeni, Naffay Ahmed, Eoghan Hennessy and Muhammed Hashim Nasser - for their Axe Ambition line pitch; team Honor - Ahmed Kaisarani, Lara Khourdok, Senna Hazem and Sahil Kumar, for their Vaseline Men new product design; and team Salanza - Zakaria El Amine Hassani, Sal Sabila, Endah Padmasari and Saleh Barake – for their brand positioning of the Fair & Lovely product.Paying tribute to all participants for their efforts, Madhusadan named team Inspiration the final winners for their understanding of the market and their product development strategy, which he hailed as a natural extension of the existing brand.Following the main competition, a further six groups of students were given the opportunity to deliver a short pitch to showcase one aspect of their marketing strategy. The winning team of Claire Saad, Rana Al Khonzondar and Leen Rizak took top spot for their innovative Vaseline social media campaign that focused on increasing the use of petroleum jelly by making it more relevant to the younger generation.Following the event, Dr Balakrishnan commented, "This was a challenging task that gave the students a real taste of the industry. The project was about managing people, time and talent and more importantly understanding their common objective. I think they surprised themselves as to how much they could achieve. I wish this group of students the very best in their careers and have no doubt many will be the industry leaders of tomorrow."Cheering each other on, the participants were unanimous in their reflection that the competition was a learning experience they would never forget. All the evening's winners were presented with certificates of achievement by the judging panel.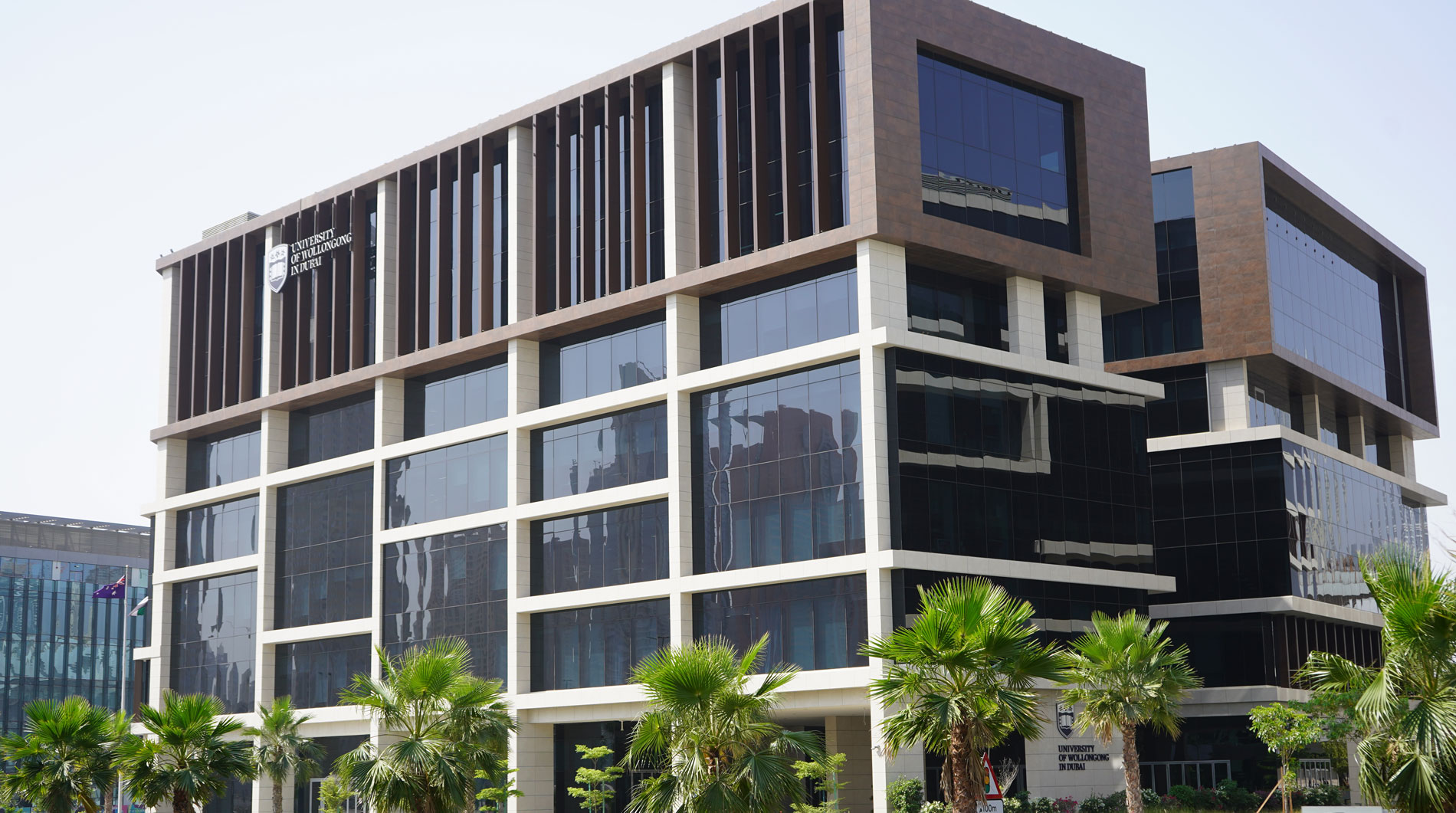 Open Day
Remember to attend our next Open Day on Saturday, 17 June 2023.
Join our experts to learn more about our degrees, and how you can enrol at UOWD in our
Autumn intake which starts on 18 September 2023.