"Being CFO gives you the exposure to all other areas of the business. It is exciting to learn every day and to have the ability and opportunity to achieve" – Iyad E. M. Abdalrahim
With a distinguished career in the finance sector, Iyad believes that the strategic thinking and theories of knowledge he learnt at UOWD have been instrumental in his success....
---
Iyad Abdalrahim was destined for a vocation in this dynamic and demanding business sector since his bachelor studies in accounting and finance at Yarmouk University. Now at the pinnacle of his career as Group CFO for Emaar The Economic City in KSA, he is content with his accomplishments to date, yet still strives for new achievements. 
Following his early career in banking, Iyad moved into the private sector, where he found a new set of professional challenges arising from his work across different business functions. Iyad explains, "The greatest challenge was developing the ability to organise my plans within a proven scientific methodology and within a strategic thinking format. My first test was to restructure and turnaround a major player in the interior contracting business in the UAE. 
"Such a challenge was complex as the revenues and operational span were not enough to create a financial strategy to salvage a negative equity company. By insuring a strategic plan was in place, within 5 years, the company moved into an IPO with a market cap of circa USD 1 billion and was recognised as the largest interiors contracting company worldwide at the time of floatation."
Among the most rewarding moments of Iyad's career came in the wake of the 2008 financial crisis. He reveals, "I was asked to join a team to restructure and transform the finance function within one of the largest Real Estate companies in the Middle East (Dubai Properties Group - Dubai). 
"The depth of knowledge I developed working alongside an amazing team and the strategic insights I gained during the 3 year journey – successfully completing tasks at all levels from operational and real estate strategy to governance and even marketing – have enriched my experience greatly and were really very exciting."
Throughout his professional successes Iyad has frequently drawn upon the lessons he learnt from his time at UOWD. He says, "Experience is not enough as it needs polishing and fortification. This was what I obtained at UOWD. I was able to implement much of what I learnt at the University in many of the restructuring, turnaround,  mergers and acquisitions transactions I've led in MENA, Europe, Asia and the USA."
Iyad continues, "In particular, I will never forget my last course at UOWD, 'Strategic Decision Making'. The course simulated real life scenarios in areas that needed decision-making and negotiation skills, and groups were assembled to interact live in class. I was amazed by the profound experience this provided after the professor gave notes on the decision methodology and offered a scientific review of what he and other classmates found; it was a truly transformational class."
A professed self-believer, Iyad always works hard to see through his plans in both work and life, even in the face of a challenge. He remarks, "There are times when you can feel beaten to the ground. Plans can go south, and undesirable outcomes and threats can prevail. External factors may not be under your control, but internal decisions are in your hands. Believe, be patient, do not get confused and focus, then it will happen. Education is so important in this, as it gives you trust in your abilities to be able to defend and support your strategies."
Among his many achievements in life Iyad says that seeing his children go to college is the one thing he is most proud of. He concludes, "I very much hope that they will benefit from the UOWD MBA in the future in the same way that I did."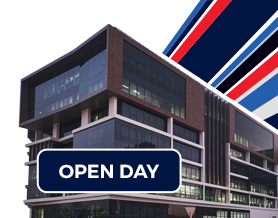 Open Day
Do you know that our next Open Day is on Saturday 30th October, 2021?
Join our experts to learn more about our degrees, and how you can enrol in our winter intake which starts on 9th January, 2022