HE Sheikha Lubna Al Qassimi presented with the AIB-MENA Windtower Award for Inspirational Leadership
Monday, 18 March, 2013
Her Excellency Sheikha Lubna Al Qassimi, the new UAE Minister of Development and International Cooperation, was last week presented with the AIB-MENA 'Windtower Award for Inspirational Leadership' at her office in Abu Dhabi.The award was conferred by The Academy of International Business – Middle East North Africa Chapter (AIB-MENA), in recognition of Sheikha Lubna's ongoing support and encouragement for the volunteer-led academic organisation. It is one of a series of honours presented annually by AIB-MENA, recognising the outstanding leadership of businesses and individuals across the MENA region.The Academy of International Business – Middle East North Africa Chapter has been incubated by the University of Wollongong in Dubai since 2009. The AIB-MENA leadership award is inspired by the characteristics of the ancient traditional architectural device, the windtower, which, like an exceptional leader, stands stoically against the elements, channelling them to better use and providing guidance and motivation, particularly in times of uncertainty.Her Excellency Sheikha Lubna has recently been voted the most powerful Arab Women by Forbes. In conferring the award, AIB-MENA specifically recognised her work as a champion of the Region and of women in particular. Since its inception, AIB-MENA has been using women entrepreneurs to help initiate and organise its three major regional conferences.Dr Melodena S. Balakrishnan, President of the Academy of International Business MENA Chapter and Associate Professor at UOWD said, "H.E. Sheikha Lubna Al Qassimi gives us the courage to do things that require perseverance and to make a difference. AIB-MENA was lucky to have her support since she launched our first book and we have come a long way since then with an excellent team of volunteers. What we do, as educators, is because we are passionate about the region and want to educate the rest of the world about what fantastic opportunities and talent exist in this region."The award also coincided with the publication of AIB-MENA's third Volume of the Case Study Book 'Actions and Insights Middle East North Africa – East Meets West'. A copy of the book, including inscriptions from its authors and case company decision makers, was also presented to H.E. Sheikha Lubna at the ceremony. The book documents several interesting cases, including how Aramex PJSC grew from a start-up to a global player in the logistics and express transportation service industry, and how Mohammed Saeed Harib (of Freej fame) began, and his aspirations for the company.The delegation included Case Study Book editors Dr Ian Michael and Mr Immanuel Azaad Moonesar and the University of Wollongong in Dubai President Elect, Professor Trevor Spedding. UOWD has hosted the AIB-MENA Chapter since 2009. The organisation is a branch of the Academy of International Business (AIB), which is recognised internationally as the leading association of scholars and specialists in the field of international business. Established in 1959, today AIB has 3206 members in 81 countries around the world. Since 2010, AIB-MENA has held three conferences, brought together over 200 participants, produced 4 books, 35 teaching cases and 10 journal articles in 2 special academic journal issues. They have organised 7 workshops on research/case writing and publishing and held 10 special interest panels with industry, government and academic speakers.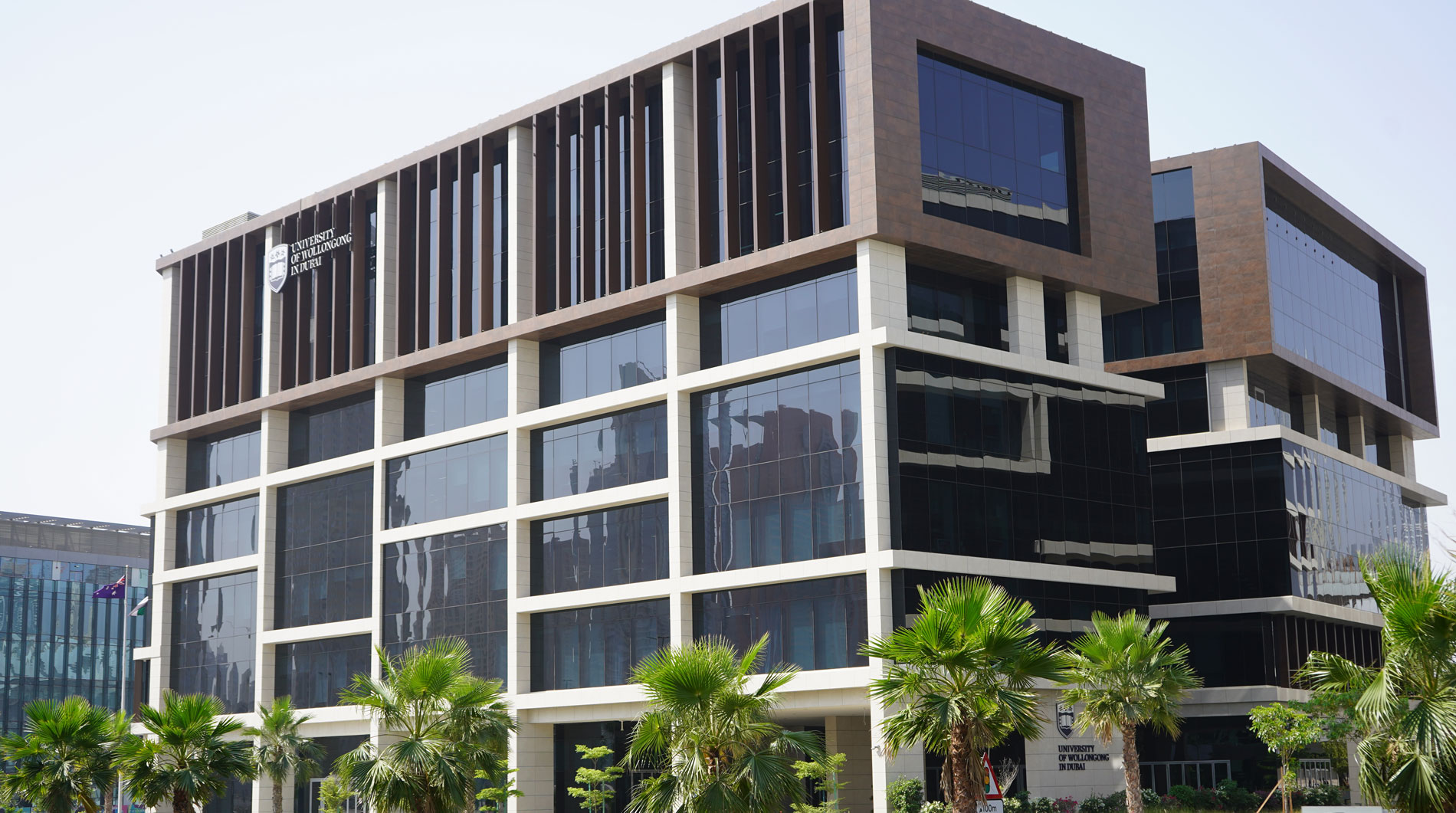 Open Day
Remember to attend our next Open Day on Saturday, 17 June 2023.
Join our experts to learn more about our degrees, and how you can enrol at UOWD in our
Autumn intake which starts on 18 September 2023.