Mathalon
At UOWD we believe in a student-centered approach to teaching and as part of our blended learning program, we host many events that either showcase student talents or bring out the best in students. Mathematics is one such crucial area of focus. At UOWD, we recognized the importance of making learning Math fun in 2006 and began a unique Math competition, called Mathalon, which has been continuously successful in drawing students to compete in a healthy and fun-filled environment.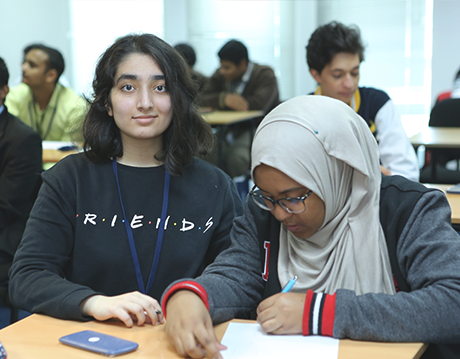 Competition Date
Saturday, 21 November 2020
Senior Category Junior Category
Venue
Online (Webex Virtual Platform)
Click here to download Mathalon 2020 Information Pack
Please note that all registrations for Mathalon are now closed. 
Payment Details
Direct bank transfer: For information about the direct bank transfer option including bank details, click here.
Online payment: To pay online click here

For information about paying online please click here for the steps

In case any payment difficulty, please direct them to Fees Office (

[email protected]

) for assistance.
Languages
The competition will be held in English
Mathalon Day Plan*
| | |
| --- | --- |
| 08:30am – 09:30am | Registration, Virtual Tour of UOWD Campus and facilities |
| 09:30am – 10:00am | Welcome Address, Keynote Speech, Rules and Procedures |
| 10:00am – 01:00pm | Competition / Annual Math Teachers' Forum |
| 01:00pm – 02:00pm | Break |
| 02:00pm – 03:00pm | Competition / Math Carnival activities |
| 03:00pm | Closing Address and Prize-giving Ceremony |
* Schedules are subject to change without notice.
Coaches
Coaches are expected to be chosen by the respective schools in order to supervise and mentor students
Coaches are solely responsible for their participants, particularly on the day of the competition
Coaches are expected to train their participants for the competition
Coaches have to remain online for the entire duration of the competition and supervise their participants virtually
All coaches are invited to join the UOWD Teachers' Forum (Math Bloc) whose 13th annual meeting will be held on the same day during the competition hour under the theme: Breaking through Barriers. Details will be announced closer to the date
At the end of the competition, each coach will receive a Thank You pack that will contain:
e-Certificates of Participation for their students and e-Certificates of Appreciation for coaches
Contact Details
Mathalon Committee
Faculty of Computer Science and Engineering
University of Wollongong in Dubai
Contact: 04 278 1800
Email: [email protected]
The senior category of the Mathalon competition is the prize attraction of this event which has seen 12 iterations of high school students battling it out to vie for the title of the Winner!
This year the virtual competition will see students engage in three rounds:
Round ONE – Multiple Choice Questions
This is a one-hour round with international, Olympiad-level questions students have to work through and answer online
Round TWO - Rapid Bee (Mental Math on Timer)
In this round, each participant will be given two (2) minutes to answer as many of questions as possible (for a maximum of 10 questions) mentally. Students will be allowed to "pass" a question if they are unsure of an answer instead of providing a wrong answer to avoid negative marking
Round THREE - Application and Concepts 
Live score board to keep everyone updated on the scores of individual competitors. Although all participants will get a chance to attempt the questions in Round Three, top 10 participants from Rounds One and Two will be graded in Round Three and battle for the top positions and the coveted scholarships.
Participants
All participants in the Senior category must be from Grades 11/12/13 only
All participants will receive a welcome pack when they register their attendance on the day of the event
All participants will receive e-Certificates of Participation that will be emailed to their respective school faculty representatives after the event, within 2-3 weeks.
Rules and Regulations - Seniors
The competition is individual
Each school can register up to THREE (3) students only.
*Registration is first come, first serve basis. 
Registration is AED20/- per head for each student registered. 
All students registered MUST belong to Grade 11/12/13.
Once registered, student/coach names can NOT be changed.
Each school should register the participants under the school banner
Each school should register a Faculty representative (hereby to be referred as Coach) to supervise the participants
Participants who have not registered their attendance before and on the day will not be allowed to participate
Schools are solely responsible for ensuring the spellings of the participating student/coach names are CORRECT on the forms and readable. We regret we will NOT be able to reprint ANY certificates/e-Certificates once they have been issued.
Any kind of competition aids such as books, papers, notes, formula sheets are not allowed. The integrity of the competition is everyone's responsibility! Remember students and mentors are joining to test their mettle, not just win!
Machine-readable versions/devices (computers, mobile/smart phones, CDs, flash memories, Bluetooth) are not allowed
Programmable calculators are not allowed. However, participants may use their own scientific calculators. List of acceptable calculator-models will be posted online. All participants using their calculators will have to agree to the Integrity Pledge during registration.
Any participant attempting to cheat or disrupt the contest environment in any way will be disqualified.
Participants requiring any kind of assistance will be expected to reach out to the organisers
Winners will be declared based on the scores attained in the rounds
Tie-breaker round will be applied if needed (more details on the day of the competition)
Committees' decisions are final
Syllabus - Senior Level
Sets and numbers
Polynomials and factors
Exponents and radicals
Inequalities
Absolute values 
Functions (domain and Range)
Composite functions
Linear functions
Quadratic functions
Logarithms
Curve sketching
Basic geometry (2 dimensions)
Trigonometry
Probability (counting / combination principles)
Winners and Prizes
The winners, runners-up and second runners-up will be awarded:
Certificates of Achievement
Scholarships from UOWD (which will come into effect after the winner has graduated high school and completed Ministry of Higher Education's Entry and English Language requirements)
The school with the top winning team will receive a Rolling trophy (that will be with the school for the duration of a year and returned to Mathalon Committee for the next year's competition).
Approved list of Calculator  Sample Mathalon Paper for Practice
Each booth is dedicated to one team of three (3) students only from each school belonging to Grades 9 and/or 10, and a coach. The teams are expected to prepare and present a mathematical concept in an innovative, imaginative, and audience-friendly manner.
Although mathematics is a subject by itself, we want to go beyond textbooks and classrooms. We want to celebrate Mathematics as an integral part of our daily lives – after all, humans have been 'counting as a basic necessity of everyday life for thousands of years' (COMAP, 2017). At the MaCoB, we invite teams to select any area of life and demonstrate how mathematics is inter-twined with the selected area. For instance, we all enjoy music. How often do we stop to think about the mathematics behind it? From the notes to rhythm, from scales to intervals, the harmonies, tone, pitch – are all closely connected to, yes you guessed right – mathematics! 
We invite one team comprising of students from each school's Grades 9 and/or 10 to prepare a virtual poster/video/visual presentation to be displayed at the virtual booth on the day of Mathalon, 21 November 2020 where we expect more than 100 high school students and teachers to attend.
How does your team benefit?
Mathalon has been and continues to be a constructive, challenging event for high school students, adding to their college application, making for impressive credentials. MaCoB goes beyond high school grades 11/12/13 and extends Mathalon to include grades 9/10 to provide them with opportunity to also showcase their knowledge, test their mettle and develop 21st century learning skills such as time management, team work and interpersonal skills. Each student and mentor will receive a Certificate of Appreciation and the winning team voted will walk away with a grand prize.  
Why MaCoB?
At UOWD we believe in student-centric learning just as much as we believe in community outreach, benefiting the greater community. These are the key objectives that have driven Mathalon all these years. Furthering our objectives, we are expanding the reach of the competition to include Grades 9 and 10, students who are at the cusp of getting to the point where they will begin thinking about further education, subjects that are of interest, and courses that will influence their careers. As strong advocates of STEM and STEM to STEAM education and careers at UOWD, we further aim to open doors of possibilities for young minds to the importance, vitality and expansiveness of mathematics through their engagement in turning theories into practice.
Participants
All participants in the Junior category must be from Grades 9/10 only
All participants will receive a welcome pack when they register their attendance on the day of the event
All participants will receive e-Certificates of Participation that will be emailed to their respective school faculty representatives after the event, within 2-3 weeks.
Rules and Regulations - Juniors
The competition is in teams
Each school is allowed to register a maximum of one (1) team
*Registration is first come, first serve basis.
Registration is AED20/- per participant, so AED60/- for a team
Each team MUST consist of one (1), two (2) or three (3) students only.
All students registered MUST belong to Grade 9/10.
Once registered, student/coach names can NOT be changed.
Each school should register the teams under the school banner
Each school should register a Faculty representative (hereby to be referred as Coach) to supervise the team
Participants who have not registered their attendance before and on the day will not be allowed to participate
Teams must register and send in the abstract for selection. In the spirit of encouraging learning, all registered teams will be invited to present and prepare their virtual stall on 21 November 2020.
The virtual stall is a slot for each team to spend presenting their ideas – how teams decide to present is up to each team and their mentor 
Schools are solely responsible for ensuring the spellings of the participating student/coach names are CORRECT on the forms and readable. We regret we will NOT be able to reprint ANY certificates/e-Certificates once they have been issued.
Teams must ensure the project they prepare and present is their research and contribution. 
Any external source used MUST be cited using Harvard Referencing system
Any team found to have copied projects off the internet will be disqualified. 
Winners will be declared based on the scores attained from judges and senior teams. 
Committees' decisions are final
Winners and Prizes
Certificates of Achievement
Prizes for Team Members
Grand prize for winning team members
Previous Competitions