Mathalon
At UOWD we believe in a student-centered approach to teaching and as part of our blended learning program, we host many events that either showcase student talents or bring out the best in students. Mathematics is one such crucial area of focus. At UOWD, we recognized the importance of making learning Math fun in 2006 and began a unique Math competition, called Mathalon, which has been continuously successful in drawing students to compete in a healthy and fun-filled environment.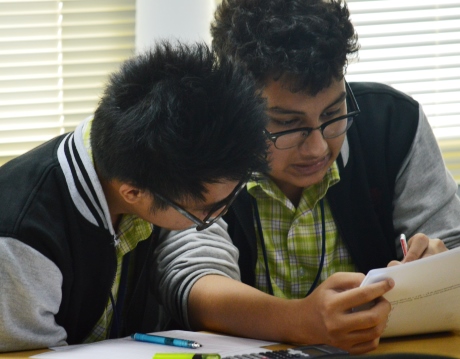 Competition Date
Saturday, 18 November 2017
 
Venue
University of Wollongong in Dubai, Block 5, 14, 15, Dubai Knowledge Park
Location Map
 
Registration
      Paper-based Registration Form
      Fax: 04 2781801
      Email: Mathalon@uowdubai.ac.ae
 
      Online
      Start date – 14 September 2017
Click here to download Mathalon 2017 Information Pack
 
 
Last day to Register
09 November 2017
 
 
Competition format
To Be Announced closer to the date
 
 
Languages
The competition will be held in English
 
 
Participants
    All participants will receive a Welcome Pack when they register their attendance on the day of the   event
    All participants will receive e-Certificates of Participation that will be handed in a USB to their respective school faculty representatives in their Thank You Packs
Mathalon Day Plan*
| | |
| --- | --- |
| 8:30am – 10:30am | Registration, Light Snacks, Tour of UOWD Campus and facilities |
| 10:30am – 11:00am | Welcome Address, Rules and Procedures |
| 11:00am – 12:00pm | Competition / Annual Math Teachers' Forum |
| 12:00pm – 1:00pm | Lunch |
| 1:00pm – 1:30pm | Fun quiz for audience with spot prizes or Dubai Drums Entertainment for participants and coaches (TBA) |
| 1:30pm | Closing Address and Prize-giving Ceremony |
* Schedules are subject to change without notice.
 
Rules and Regulations
    The competition is in teams
    Each school is allowed to register a maximum of three (3) teams
    Each team MUST consist of one (1) - two (2) students only.
    All students registered MUST belong to Grade 11/12.
    Once registered, student/coach names can NOT be changed.
    Each school should register the teams under the school banner
    Each school should register a Faculty representative (hereby to be referred as Coach) to accompany the teams on the day of the competition
    Participants who have not registered their attendance before and on the day will not be allowed to participate
    Last date to register teams is November 9, 2017 Sunday and it is non-extendable.
    Schools are solely responsible for ensuring the spellings of the participating student/coach names are CORRECT on the forms and readable. We regret we will NOT be able to reprint ANY certificates/e-Certificates once they have been issued.
    Any kind of competition aids such as books, papers, notes, formula sheets are not allowed.
    Machine-readable versions/devices (computers, mobile/smart phones, CDs, flash memories, Bluetooth) are not allowed
    Programmable calculators are not allowed. However, teams may bring their own scientific calculators for use. List of acceptable calculator-models will be posted online. All participants bringing in their calculators will have to get them stamped for approval during registration, before taking it into the competition hall.
    Any participant attempting to communicate with other participants other than their own team member or disrupt the contest environment in any way will be disqualified.
    Participants requiring any kind of assistance will be expected to remain seated while being assisted by an invigilator
    Winners will be declared based on the scores attained for both rounds
    Tie-breaker round will be applied if needed (more details on the day of the competition)
    Committees' decisions are final
Contact Details
Mathalon Committee

Faculty of Computer Science and Engineering
University of Wollongong in Dubai
Contact: 04 278 1935
Email: Mathalon@uowdubai.ac.ae
 
Previous Competitions