UOWD Students Shine at the Youth United for Sustainability Competition
Monday, 22 May, 2023
The University of Wollongong in Dubai (UOWD) is immensely proud to announce the stellar performance of its students at the recently concluded Youth United for Sustainability Competition. INJAZ UAE, in partnership with General Electric (GE) and UAE Independent Climate Change Accelerators (UICCA), hosted this noteworthy event, the Innovation Day Camp, providing an enriching platform for university students to engage with industry professionals, solve real-life business challenges, and gain invaluable skills and knowledge.
In a day filled with learning, collaboration, and a fair share of adrenaline, the event was an excellent opportunity for students to work on their problem-solving and teamwork abilities while gaining insight into global sustainability issues. The students' potential involvement in COP28 and the presence of VIPs made the event even more exciting and impactful. All attendees received a certificate of participation as a testament to their hard work and commitment.
Leading the way for UOWD were two formidable teams who secured the golden and silver medals.
Golden Medal - First place: Gayatri Balmurali Kalpathi, Faculty of Business
Gayatri Balmurali Kalpathi, along with her team, won the first prize for their project, The Energy Trilemma Game. The competition required them to devise a plan for the UAE to meet its 2050 net zero emissions targets. By identifying a path to the 2035 electricity mix based on affordability, reliability, and sustainability, the team created a comprehensive proposal. Their energy distribution was rooted in the energy strategy 2050, considering UAE's current infrastructure, resources, climate conditions, and global energy investment trends.
The team, comprising students from various universities and majors, included Hijab Shireen, Alreem Almheiri, Nouf Taleb, and Vania Llerena. Their mentors, Muhammad Fraz Ajmal and Kefu JIANG from GE, provided expert guidance throughout the competition.
Silver Medal - Second place: Faculty of Business and Faculty of Engineering and Information Sciences
The second prize was claimed by a diverse team of students from the Faculty of Business and the Faculty of Engineering and Information Sciences. The team included Elria Dsouza, Abdullah Mushtaq, Ameer Ali Khan, Dania Hisham Kayali, Nedha Ahmed Syed, Stephanie El Bash, and Habiba Ahmed.
Their project proposed an optimized plan aligning with UAE's current objectives of transitioning towards renewable energy and fostering stronger relationships with neighboring countries. The team effectively addressed the importance of strategic planning in achieving these objectives and proposed innovative solutions to reduce reliance on non-renewable energy sources.
These achievements serve as a testament to UOWD's commitment to fostering an environment that encourages students to innovate and strive for excellence. The University of Wollongong in Dubai congratulates all the participating students and thanks Dr Jaeyoung Cho whose unwavering encouragement and mentorship bolstered the UOWD students before and during the competition to win this competition.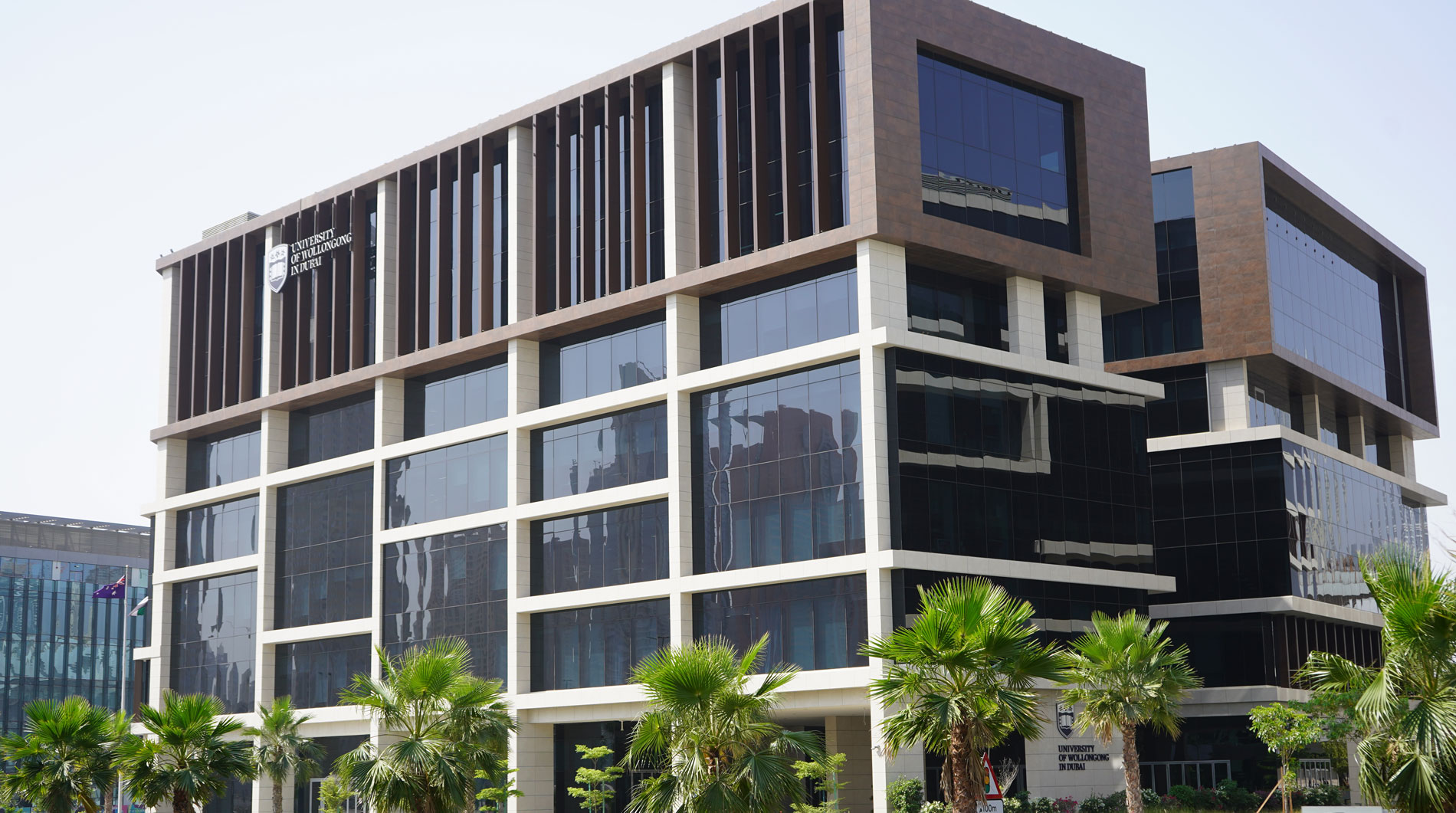 Open Day
Remember to attend our next Open Day on Saturday, 17 June 2023.
Join our experts to learn more about our degrees, and how you can enrol at UOWD in our
Autumn intake which starts on 18 September 2023.